Singapore-headquartered Atlas Mining, which previously had extensive Bitcoin mining operations in China, intends to move a significant portion of the hashrate to North America.
Atlas Mining announced on Tuesday that it has signed a partnership with US-based colocation mining provider Compute North for over 100 megawatts (MW) of hosting capacity. Deployment of Atlas Mining equipment will begin in the first quarter of next year, the companies said, when fully deployed, it will produce about 3,7 exahashes per second (EH / s).
The Compute North deal came just weeks after Atlas Mining announced another hosting partnership with US-based Core Scientific, also over 100 megawatts, to be rolled out over the next 15 months.
The moves are part of a global Atlas migration and expansion plan after China stopped mining Bitcoin in the summer. The company is also targeting other popular destinations such as Northern Europe and Central Asia.
Mining Is the Bitcoin mining division of Shanghai Cryptocurrency and Blockchain Fund Fundamental Labs, which raised a $ 2019 million Bitcoin mining fund in 44 to invest in tens of thousands of new hardware at the time. His operations were mainly located in major Chinese mining centers prior to the June repression in that country.
In a statement today, Atlas Mining said it has purchased more than 200 pieces of the latest generation of equipment to date and "intends to continue this trend over the next few years." He said that at the moment, more than 000 megawatts of capacity have been reserved for self-production through local hosting partners in different regions.
As The Block previously reported, while Bitcoin's hashrate has steadily made up for half of the losses from the June disruption, Bitcoin mining companies that previously operated in China still have a long way to go to complete the migration process. This is due to a global lack of hosting capacity.
Dave Perrill, CEO of Compute North, told The Block in an email last month that the company has several migrating customers from China. "But we were already completely sold out in the third and fourth quarters, so there will be migrations for these customers next year. We see deployments in the range of 30 to 150 MW, "he said.
This could help explain the slowdown in Bitcoin's hashpower growth - at least in the short term - which is likely to resume at a higher pace early next year. Bitcoin mining difficulty was adjusted on Tuesday, increasing by just 1%, while the average bitcoin hash rate remains at around 145 EH / s, according to data from the data dashboard The Block.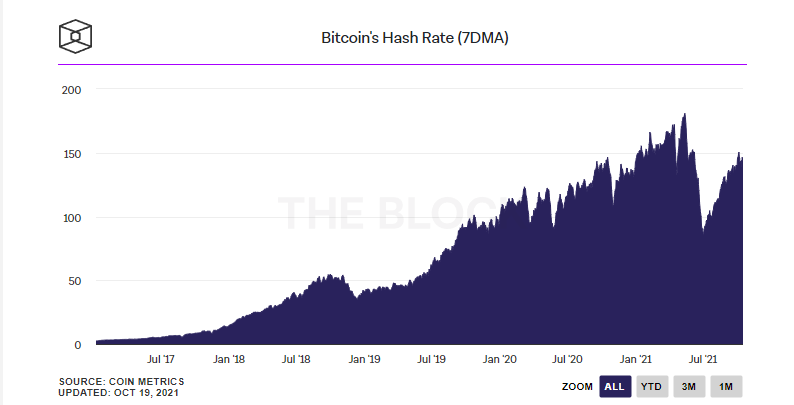 While US-based colocation providers are fueling the mining infrastructure boom in North America to meet expansion and relocation needs, bitcoin mining companies are also building facilities themselves through joint ventures in the region. This helped it replace China as the destination with the largest share of the Bitcoin mining market.
BIT Mining, a U.S.-registered company formerly known as 500.com with core operations in China, said Monday it is investing an additional $ 11 million in its Ohio mining facility, which is jointly developed by Viking data centers. The addition to the investment will increase the facility's capacity by another 65 MW and bring the total capacity to 150 MW.