Measures taken by NVIDIA to protect graphics cards from mining only briefly helped to lower prices, and outbreak of COVID-19 in China will slow down production
Video card prices are rising again after a short-term drop. This is the conclusion reached by the analysts of the 3DCenter resource. Experts have compared prices for video cards in Germany since the beginning of the year. It turned out that the measures taken to combat mining on video cards did not have a lasting effect.
For example, it turned out that the AMD RX 6000 and NVIDIA RTX 30 series video cards have risen in price again since July this year. It is noteworthy that the rise in prices for video cards with a slight delay correlates with the rise in prices for cryptocurrencies. So, the graph below shows that the price peak for video cards fell on May.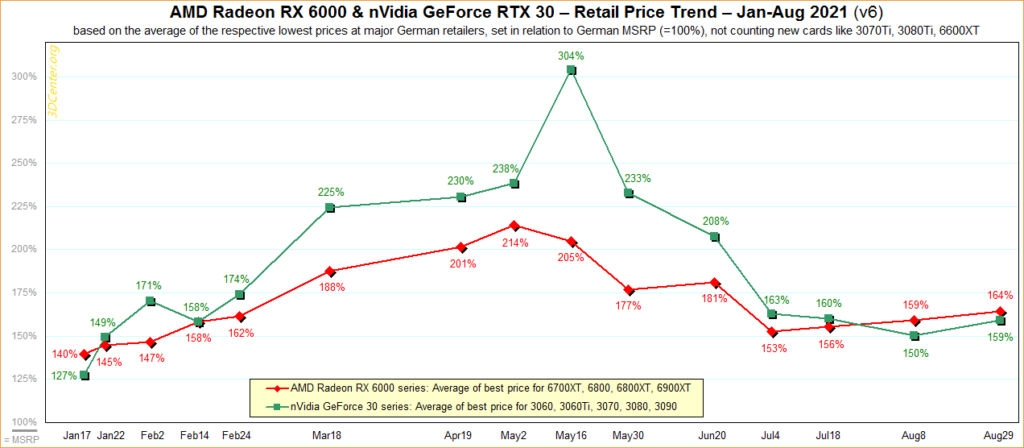 Bitcoin, for example, peaked (~ $ 65) in mid-April, while ether broke records (~ $ 000) in the first half of May. Analysts emphasize that the trend is visible not only with premium graphics cards. In most cases, the cheapest offers have already disappeared from the market. The lack of budget alternatives will simply deprive a potential buyer of choice.
The situation is also worsened by the outbreak of COVID-19 in China. As previously reported by Videocardz, the production of GeForce RTX 3060 Ti and RTX 3060 video cards will be significantly reduced by the end of September. It is noted that due to a new wave of coronavirus diseases, the authorities are stopping the work of large enterprises.
Moreover, the head of NVIDIA Jen-Hsun Huang predicts that the shortage of video cards will remain until the end of 2022. He stressed that NVIDIA has already taken on part of the commitment to ensure long-term supply. However, demand still exceeds supply due to the global shortage of microcircuits.