RVN is one of the most popular coins for mining, behind only Ethereum (ETH) and Ethereum Classic (ETC) in terms of the number of miners. Cryptocurrency refers to the Proof-of-Work consensus algorithm and has a hybrid algorithm (Kawpow) that uses the video card's core and memory at once.
Майнить RVN рекомендуем на пуле 2Miners. Сейчас этой монетой на пуле заняты более 22 тысяч майнеров.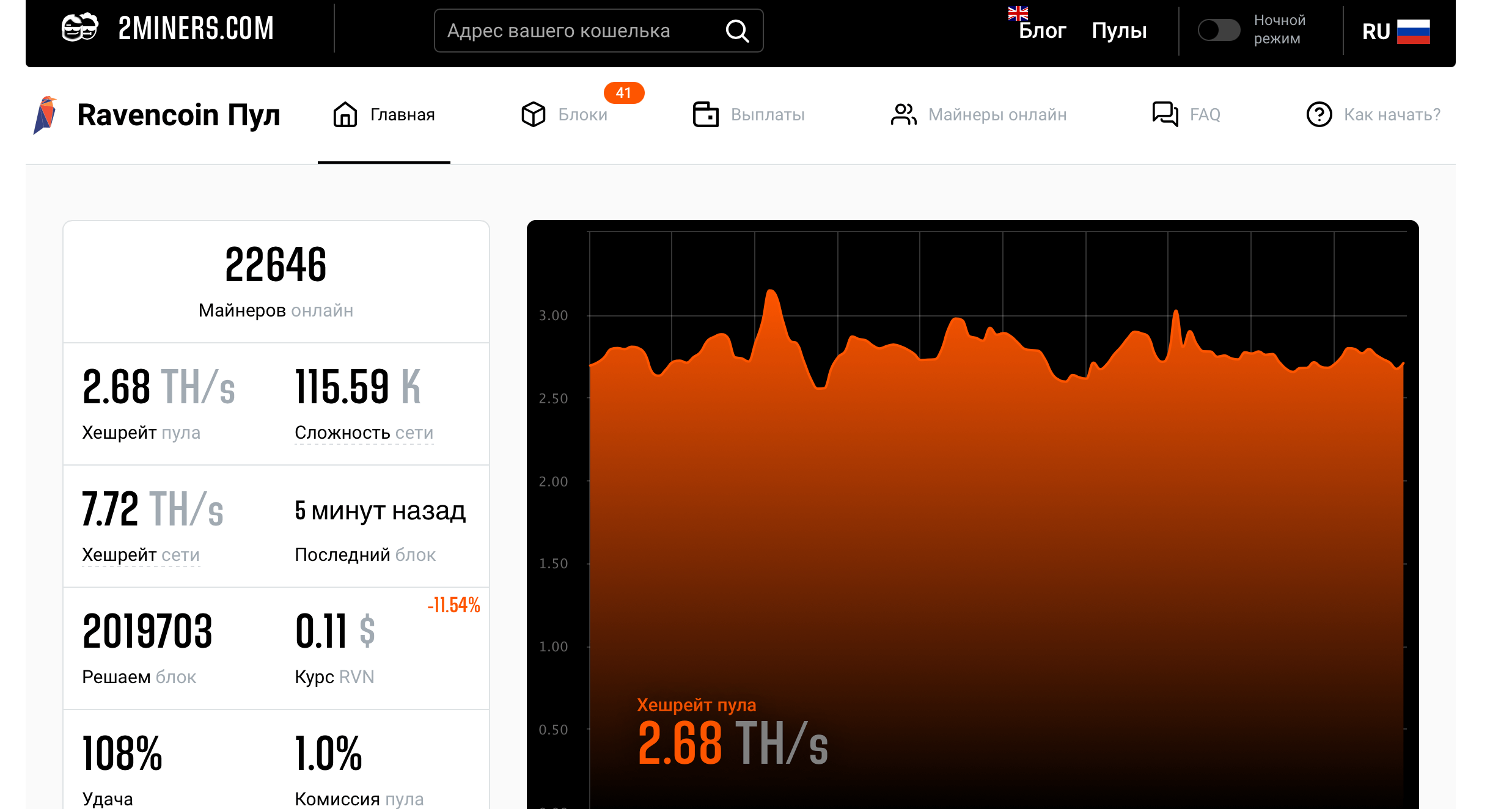 Ravencoin mining pool from 2Miners
Because of these features, this algorithm cannot be called "cold". It largely depends on the overclocking of the video card and on the allocated power (Power Limit, PL).
Overclocking video cards when mining Ravencoin. How is it similar to Firo?
On October 26, 2021, a hard fork of Firo cryptocurrency took place, as a result of which the mining algorithm changed from MTP to the new FiroPoW algorithm.
Мы писали об этом в отдельном материале "В сети Firo (ZCoin) произойдёт обновление. Как подготовиться к хардфорку?"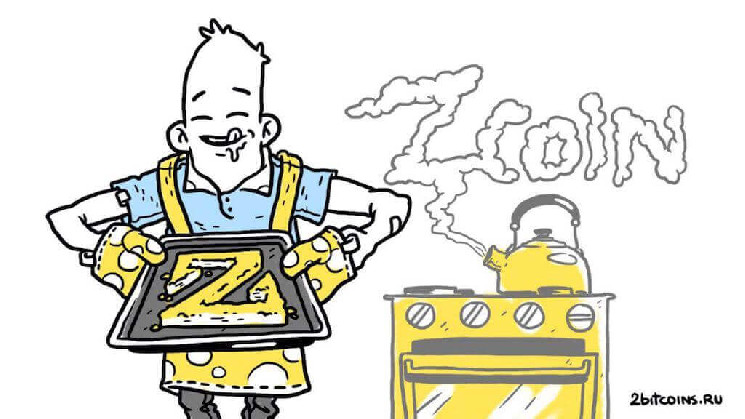 Firo used to be known as Zcoin
The FiroPoW algorithm is a modification of the ProgPoW algorithm. The same goes for KawPoW, which is used in RVN mining.
В итоге у нас есть два алгоритма — FiroPoW и KawPoW — которые являются производными от алгоритма ProgPoW. Они очень похожи друг на друга, поэтому принципы разгона у них абсолютно одинаковые. Соответственно, и хотя данная статья написана про майнинг RVN, она может быть успешно использована для разгона карт под алгоритм FiroPoW для майнинга Firo.
How to overclock video cards when mining Ravencoin?
Overclocking video cards primarily depends on the readiness of the miner to experiment and on the cost of electricity. Still, in addition to the average-optimal overclocking parameters, a hard downvolt is also possible, giving only 80 percent of the average hash rate, but at the same time reducing the power consumption of the video card by 33-39 percent. Conversely, we can almost always add 10-15 percent of the hash rate, while sacrificing 22-30 percent of the excess consumption.
Важно: в калькуляторах прибыльности всегда указан некий среднеоптимальный разгон для каждой модели, доступный на большинстве видеокарт. Однако опытный майнер должен знать возможные минимумы и максимумы для каждой своей видеокарты.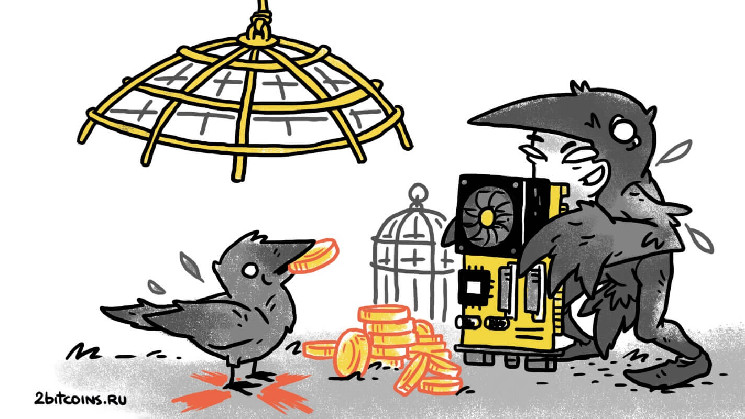 Miner Ravencoin
For example, an RTX 2070S card can deliver 17.05 MH / s per 89 watts of power consumption (5.22 W per 1 MH / s in total), but it can also deliver 20.88 MH / s at 121 watts (5.8 W per 1 MH / s). And if we have free electricity, then this video card can generally be overclocked to 26.05 MH / s with a consumption of 209 W (the card will consume as much as 8 W per 1 MH / s). In this case, do not forget about good cooling of the video card.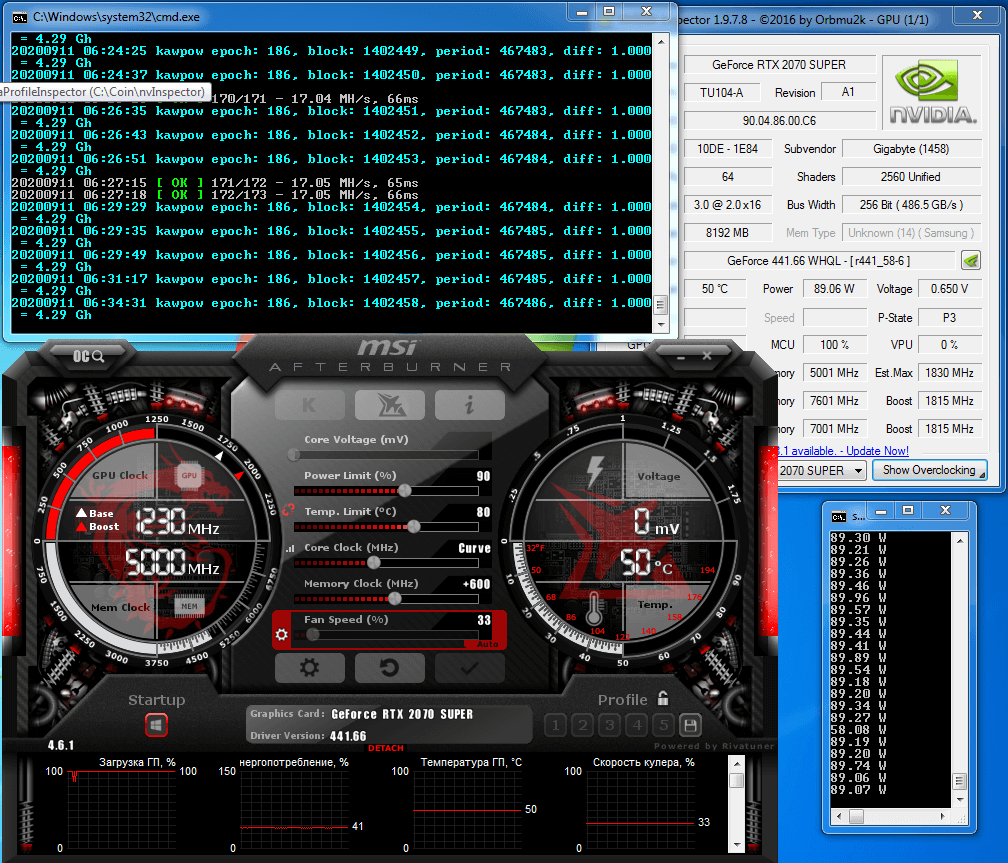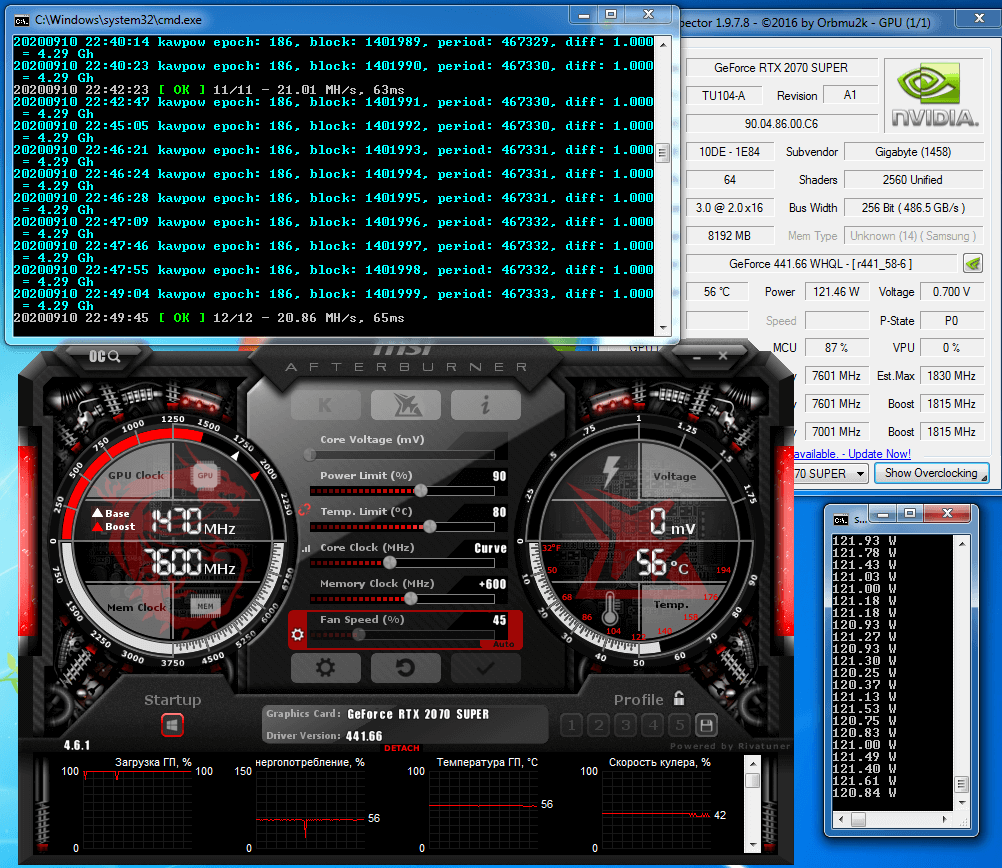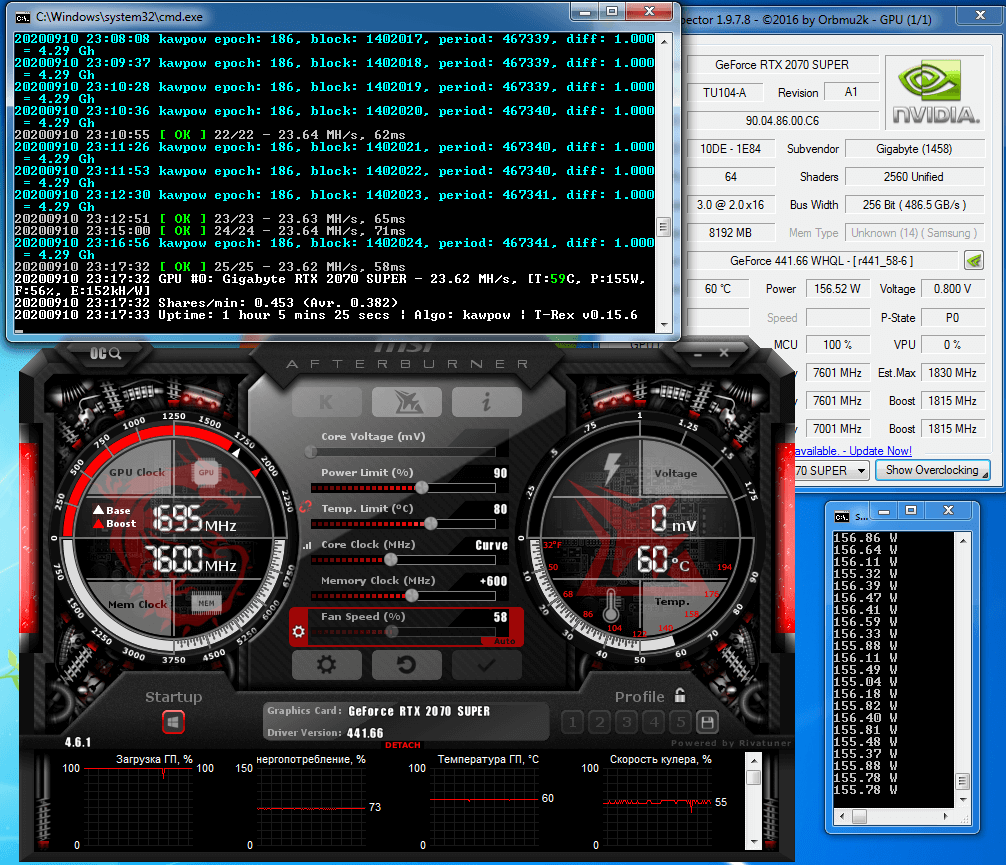 Below is a summary table with several of the most interesting overclocking options and mining hashrates for a given coin for different models of Nvidia video cards.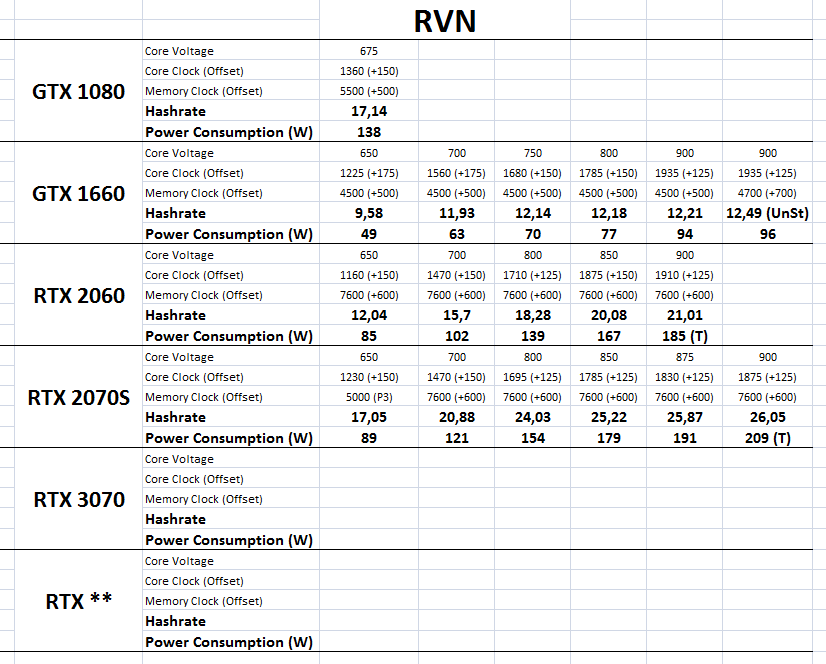 The data in the table was obtained on the T-rex 0.24.2 miner and is supplemented as new models are tested or significantly more efficient miners are released.
Principles of overclocking video cards for the Kawpow algorithm
Almost all overclocking parameters of a video card affect the hash rate of video cards when mining this algorithm. Therefore, you need to overclock everything. However, if we overclock everything at once, we will not find out the true cause of the failure when the video cards are unstable.
Therefore, it should be dispersed in stages.
Step 0. Before starting overclocking, we determine the profitability of the algorithm - here the 2CryptoCalc calculator will help. Next, we write down how much the cost of 1 kWh of electricity is for you.
Collectively, we get an estimate of the rationality of acceleration in terms of the cost of energy. Next, we use these values ​​in order to determine a reasonable level of power consumption by the video card.
Step 1. Finding a stable maximum from memory.
To do this, step by step increase the memory by +50 MHz to the maximum stability level. We retreat down one step.
Важный аспект: при нагреве видеокарты, чипы видеопамяти тоже греются и значения стабильного разгона снижаются.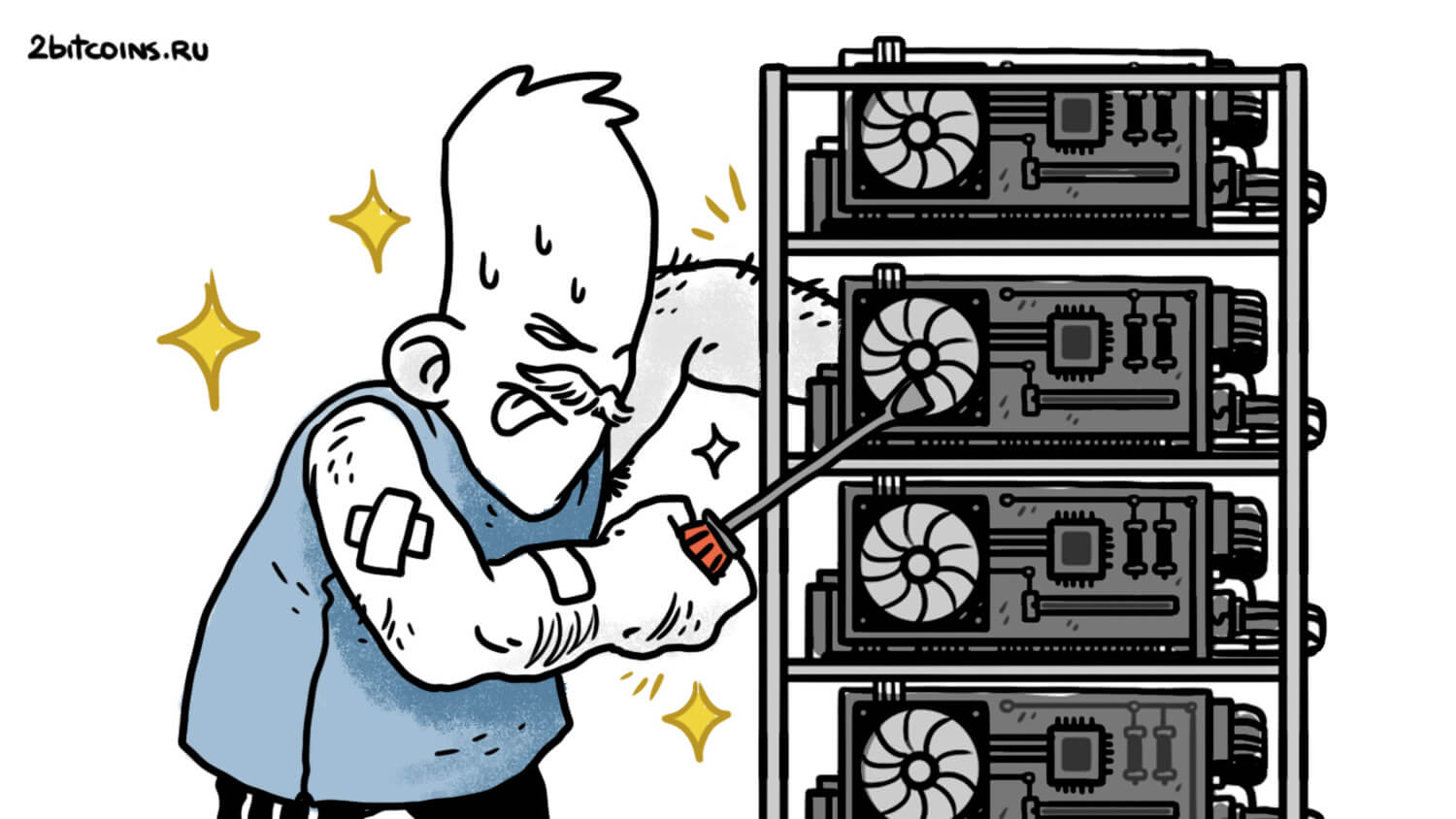 Cryptocurrency mining
Второй важный аспект: нет необходимости включать "таблетку" для видеокарт моделей 1080 и 1080ti. При фиксированном PL скорости она не прибавит, а стабильность разгона точно уменьшится.
Step 2. Overclocking the core.
If the mining is running on the Windows operating system, then we fix the core voltage in the MSI Afterburner program. This will increase overclocking stability and increase the level of maximum achievable energy efficiency.
We increase the core frequency by +25 MHz upwards, find a stable maximum, retreat one step down from it.
Если у вас тариф электроэнергии дифференцированный по времени суток, и вы хотите автоматически переключаться в холодный режим на дорогом тарифе, а также разгонять карты на дешевом тарифе, то разгон ядра необходимо выполнить для всех точек фикса ядра.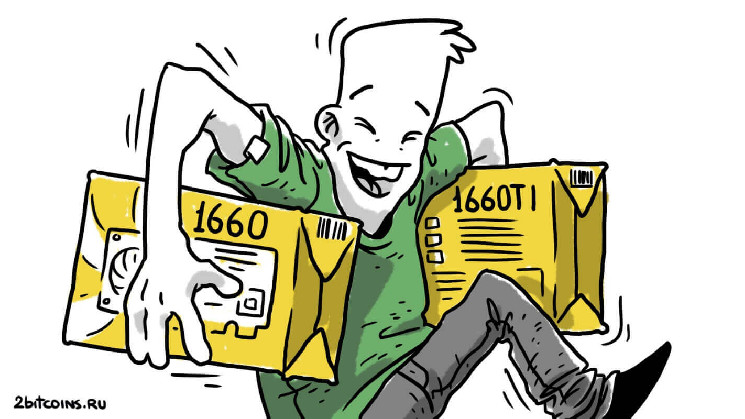 Cryptocurrency miner
It is better to start tuning from the highest voltage desired point. It should be remembered that the higher the core voltage, the less you can overclock it. On the same card at the 950 mV level, the card can have a maximum overclocking of +125, at the 800 mV core level it is already +175 MHz, and at the 700 mV level even +225 MHz - especially for the RTX 30xx series.
In this case, it is better to step back down by 50 MHz with a margin at high voltage points. After all, the card there is as unstable as possible, and if the driver fails, all points fly off at once.
Dual mining RVN and Ethereum
The memory of modern video cards can easily fit working files for mining two cryptocurrencies at once. However, they will compete with each other in memory and kernel usage, so the final speed will significantly depend on the intensity of each algorithm.
Примечание: в системе Windows 10 наблюдается избыточное потребление видеопамяти всех видеокарт. Дуал-майнинг невозможен для видеокарт, имеющих всего 8 ГБ памяти, но он возможен при использовании Windows 7 или операционных систем для майнинга на базе Linux по типу RaveOS.
In practice, in the context of the global dominance of Ethereum in terms of mining profitability over other cryptocurrencies, the use of Dual mining mode in 2020-2021 did not lead to the opportunity to earn more on cards without protection from mining.
For example, the RTX 2070 Super video card, when mining only one algorithm, can produce 40+ MH / s at 93 W consumption on Ethereum. This is 42+ MH / s, if the video card stably keeps memory overclocking up to 7800 MHz or about 21 MH / s on Ravencoin with 121 W consumption, that is, up to 25 MH / s with 200 W consumption.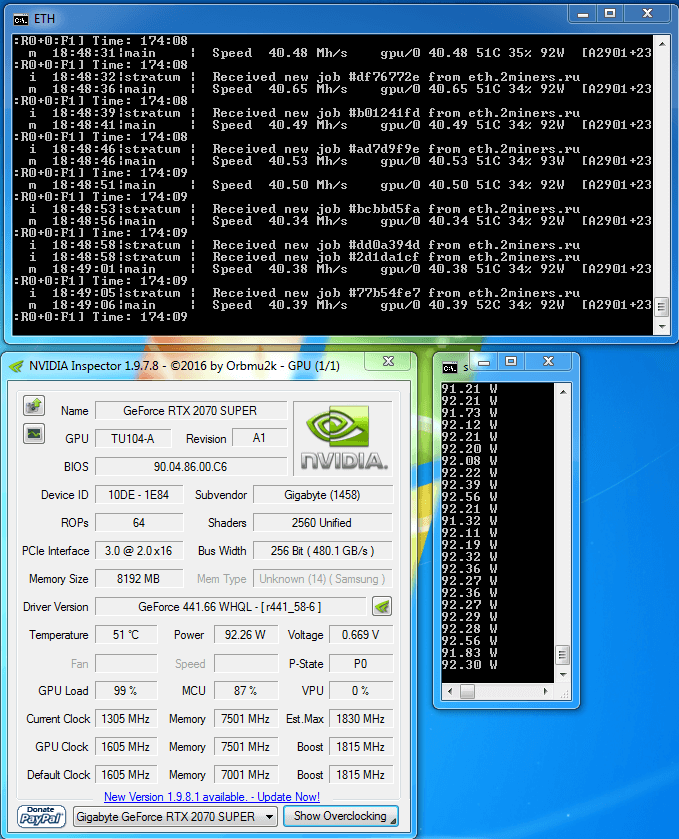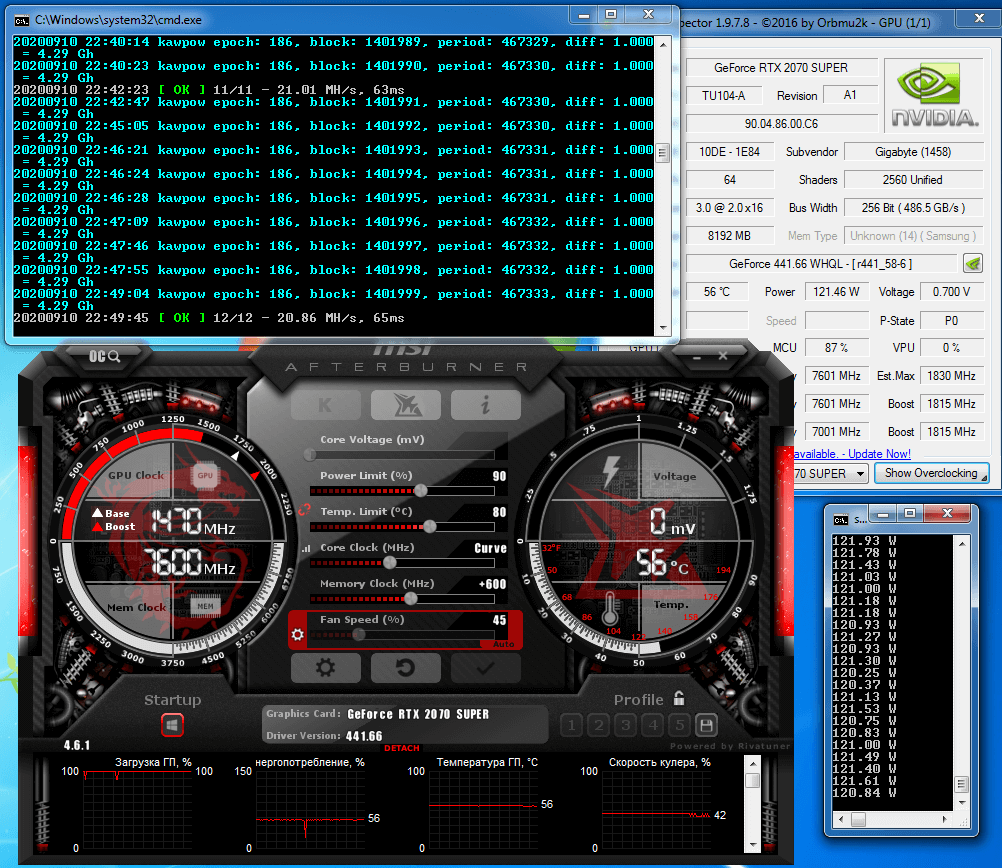 When using dual mining with different intensities, it is possible to get ETH speeds of 16.5 MH / s and RVNs of 16.5 MH / s, while consuming up to 200 watts of electricity. That's just under 40 percent for Ether and just under 70 percent for RVN.
It is easy to calculate that over the past two years, pure mining of one Ethereum coin has been more profitable in the vast majority of cases, and it also consumes much less energy.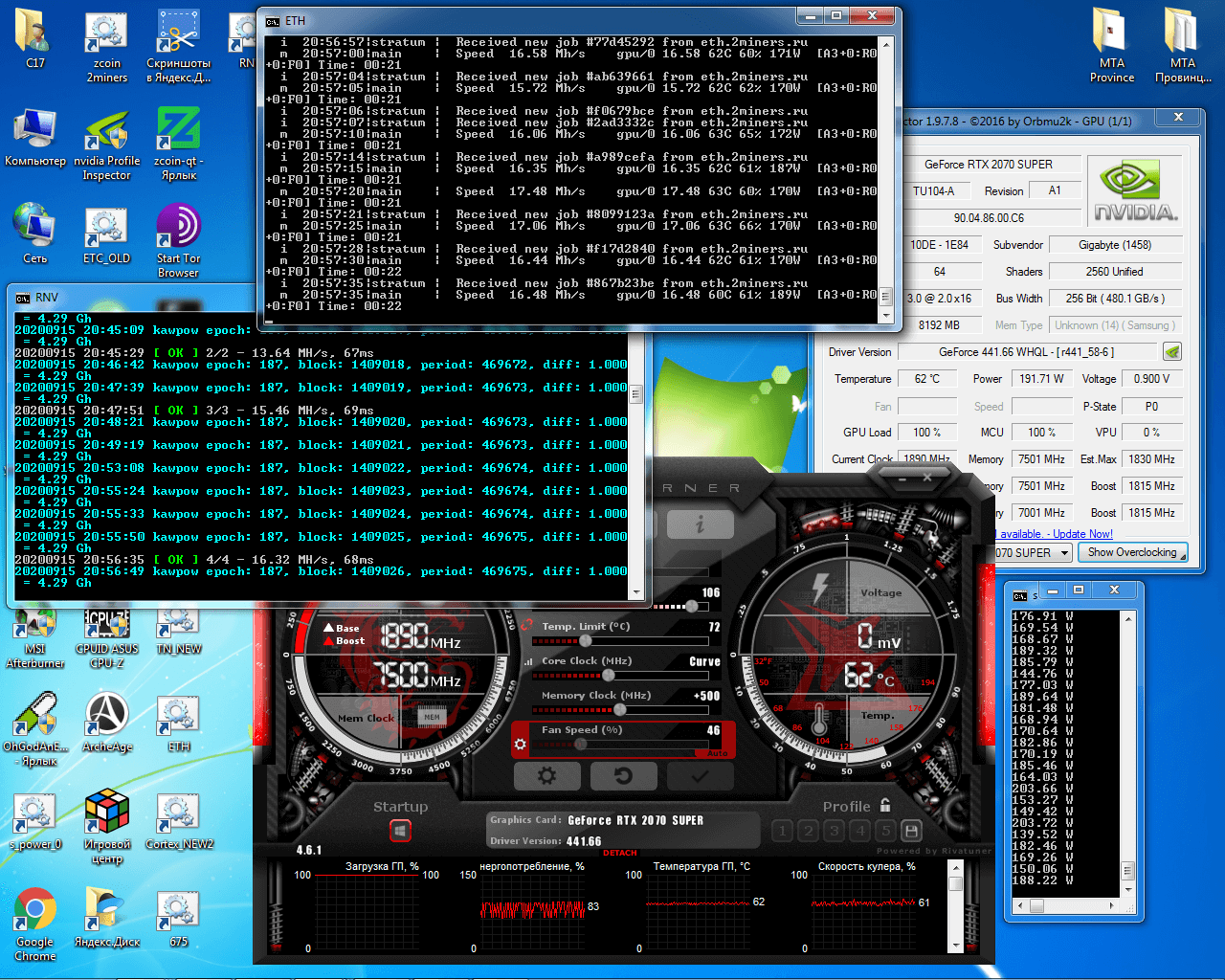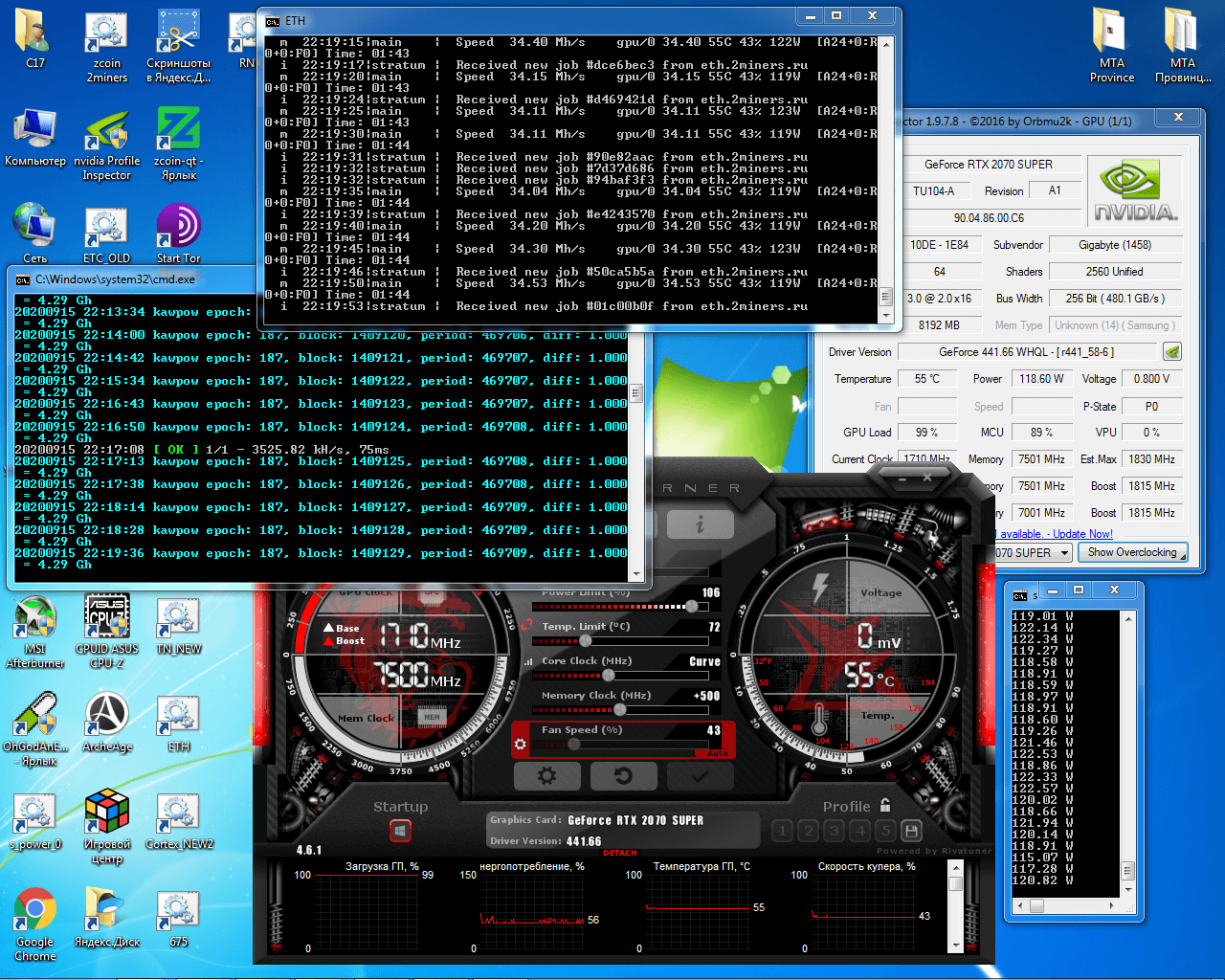 Примечание: при тестах использовались разные майнеры, чтобы можно было менять интенсивность каждой монеты. Полученные значения могут быть не максимальными.
If you have so-called LHR video cards, then in theory dual mining will make sense, although it will not give a big increase in reward. This option is relevant only if there is a cheap source of electricity.
Mining RVN on Nvidia RTX 30xx video cards
As you may have noticed, the RVN mining speed in most cases is half of the ETH mining speed in megahashes.
The RTX 30xx series - like the 20xx cards - use very fast memory that can transfer huge amounts of information and use very high frequencies. In this case, the data bus becomes the bottleneck.
Именно поэтому у карт с одинаковой шиной очень схожие скорости при майнинга. Например, это 3060ti и 3070 или 2060S, 2070 и 2070S.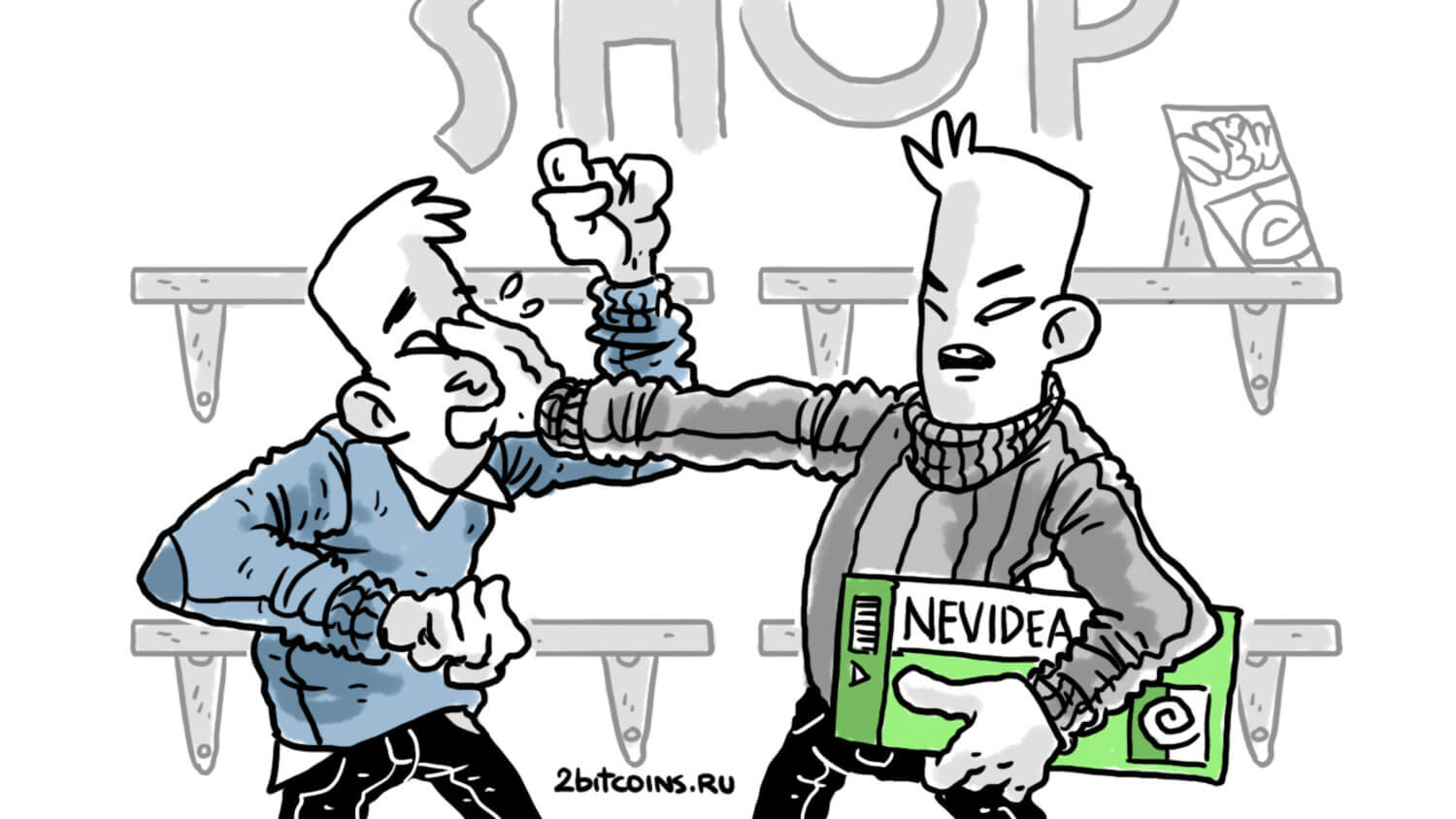 Nvidia graphics card shortage
With the release of 30xx, video card cores have become even more powerful and with faster memory, but the bus bit rate remains the same. Therefore, driving the core is relatively useless, because the RVN mining speed on the 3070 card will not rise above 30-33 MH / s
Это зависит от разгона памяти: можно получить 31 MH/s при памяти 8200 МГц.
But consumption will increase, so on RTX 3070 or RTX 3060ti when mining RVN and ETH, in order to achieve maximum energy efficiency, you need to overclock the memory as much as possible and reduce the core frequency as much as possible.
For the same reason, it is relatively useless to use various dual mining options on cards without LHR, if you run RVN + FIRO, RVN + ETH, RVN + ERGO and others on one card. Here it is impossible to achieve an increase in profitability relative to the mining of one coin.
Results. Is Ravencoin mining profitable?
Mining RVN cryptocurrency today is one of the most relevant options for mining something other than Ethereum. Well, in light of the upcoming major updates, inspired by the desire of Ethereum developers to completely get away from mining on video cards, Ravencoin mining can be considered a very good alternative. Moreover, taking into account its wide possibilities for the selection of the desired energy efficiency of mining within the framework of even one model.
It is not known how much time is left before the full transition of Ethereum to PoS. However, already now it is worthwhile to be puzzled by checking your cards for their ability to mine alternative currencies, as well as knowing the possible stable ranges of hashrate / efficiency depending on overclocking.