Wasabi Wallet is a non-custodial, privacy-focused client for storing Bitcoin cryptocurrency. Available for PC only (Windows, Linux, Mac OS). Versions for Android and iOS were considered by the developers, but their release "is possible only when mobile operating systems become sufficiently developed to support all the functions Wasabi Wallet needs."
Cold devices (Coldcard, Ledger Nano S) are also connected to it. At the same time, interaction is allowed only with bech32 addresses (not Legacy).
It includes built-in Tor, and by default all traffic between clients and the server goes through it, so IP addresses are hidden and user privacy is respected. Under normal circumstances, the Wasabi wallet never leaves the Tor onion network and never uses Tor output relays, greatly reducing the threat of a network attack.
What cryptocurrencies does Wasabi wallet support?
Only Bitcoin and its bech32 format addresses (starting with bc1).
Pros and cons of the wallet
+ Additional security settings
+ CoinJoin
+ Full access to private keys
+ Support for "cold" API devices
+ Multi OS
+ Open source
- No Russian language
- No mobile version
- SegWit addresses only
The history of the Wasabi Wallet
The creator, Nopara73, has wanted to contribute to Bitcoin since meeting it. And this happened back in his student years. He joined the development of Joinmarket, and there he met his mentor. They later together zkSNACKS and founded Wasabi Wallet.
After learning Python, Nopara73 started writing an HTTP interface. While working on the NTumblebit project, he created his Hidden Wallet, later renaming it Wasabi.
At one of the developer conferences, the mentor asked the question: "Couldn't mix more efficiently?" Almost immediately, the idea of ​​a new design came up, with the placement of a large number of participants in 1 transaction. This increased the mixing efficiency by about 5 times.
The team is now trying to increase the reliability of CoinJoin mechanisms to 100% and believes that the current level of mixing security is at around 90%. Plus - focus on the user interface, making the software more user-friendly. According to Nopara73, many projects add a bunch of functions that no one uses, and this only complicates the "maintainability" of the code.
Legal terms of use
The client is distributed under the MIT open source license.
Responsibility for the safety of the keys lies solely with the user and he is solely responsible for actions in accordance with local laws and regulations.
The Wasabi Wallet architecture does not allow the collection or storage of user personal data.
Wasabi wallet special features overview
Hardware Wallet (Cold wallet)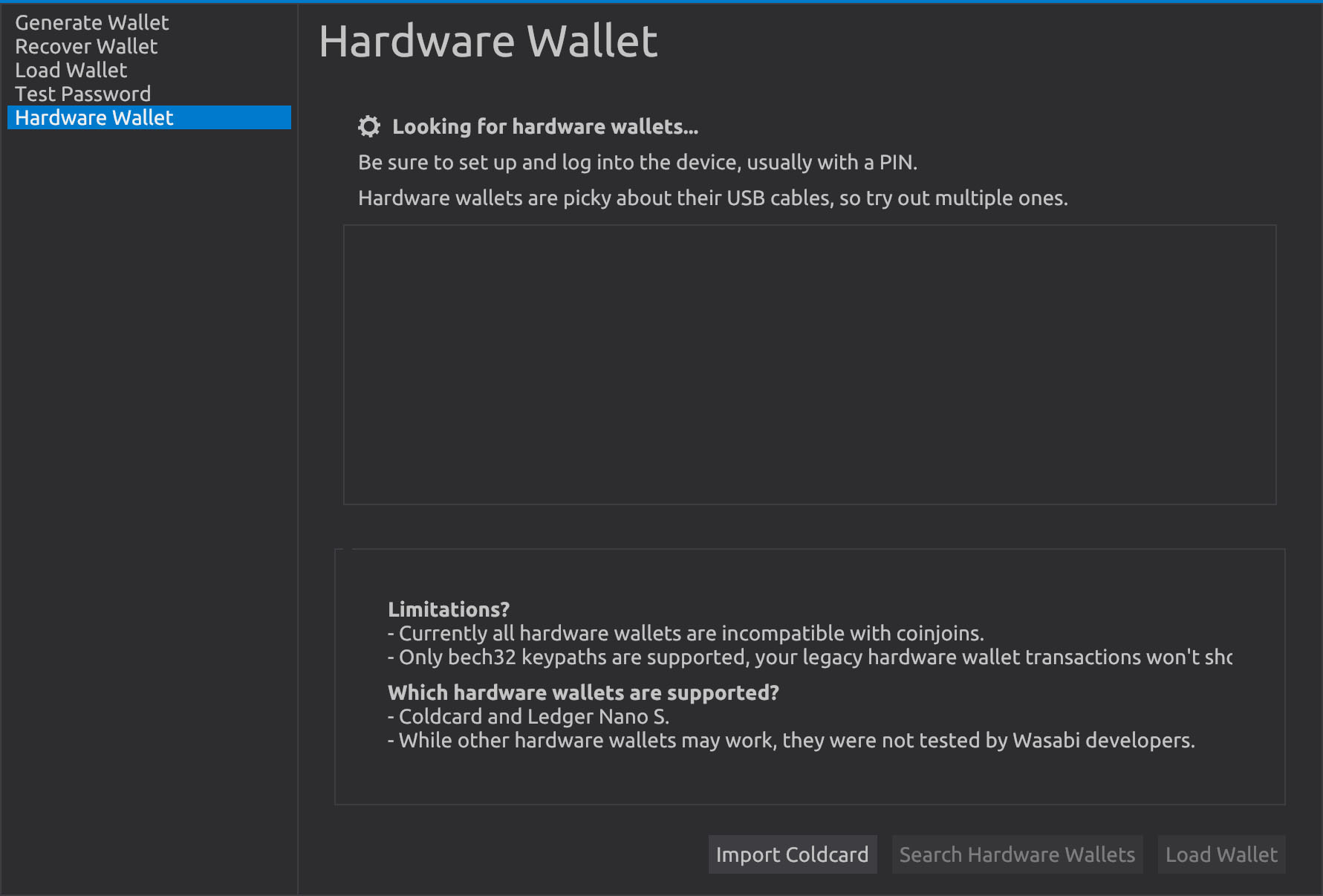 Connecting Coldcard by importing a file, or searching for other hardware "Search Hardware Wallets".
File> Open> Log File, Tor Log File, Config File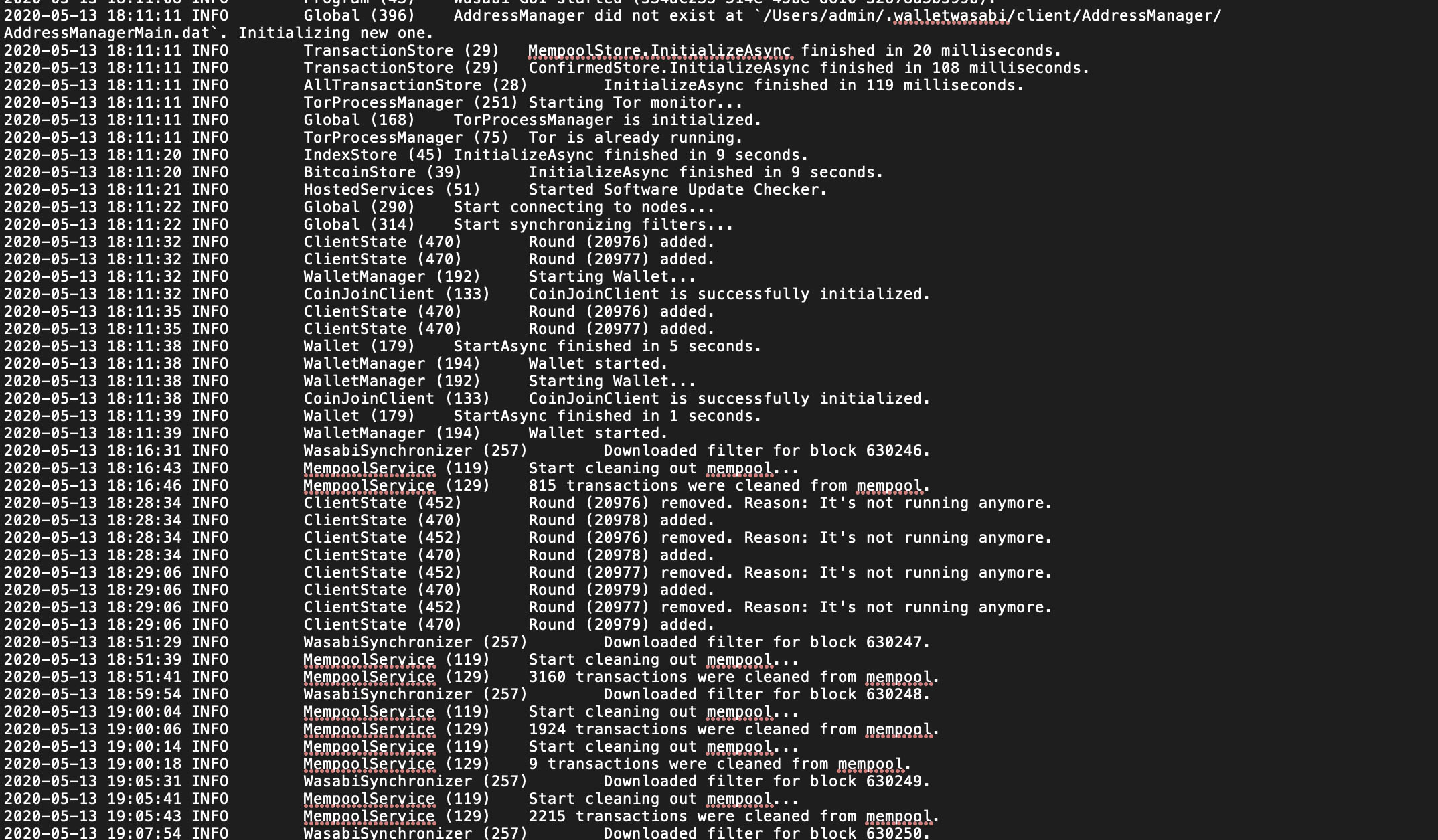 Instantly opens a text document with the entire history of transactions.
File> Lock Screen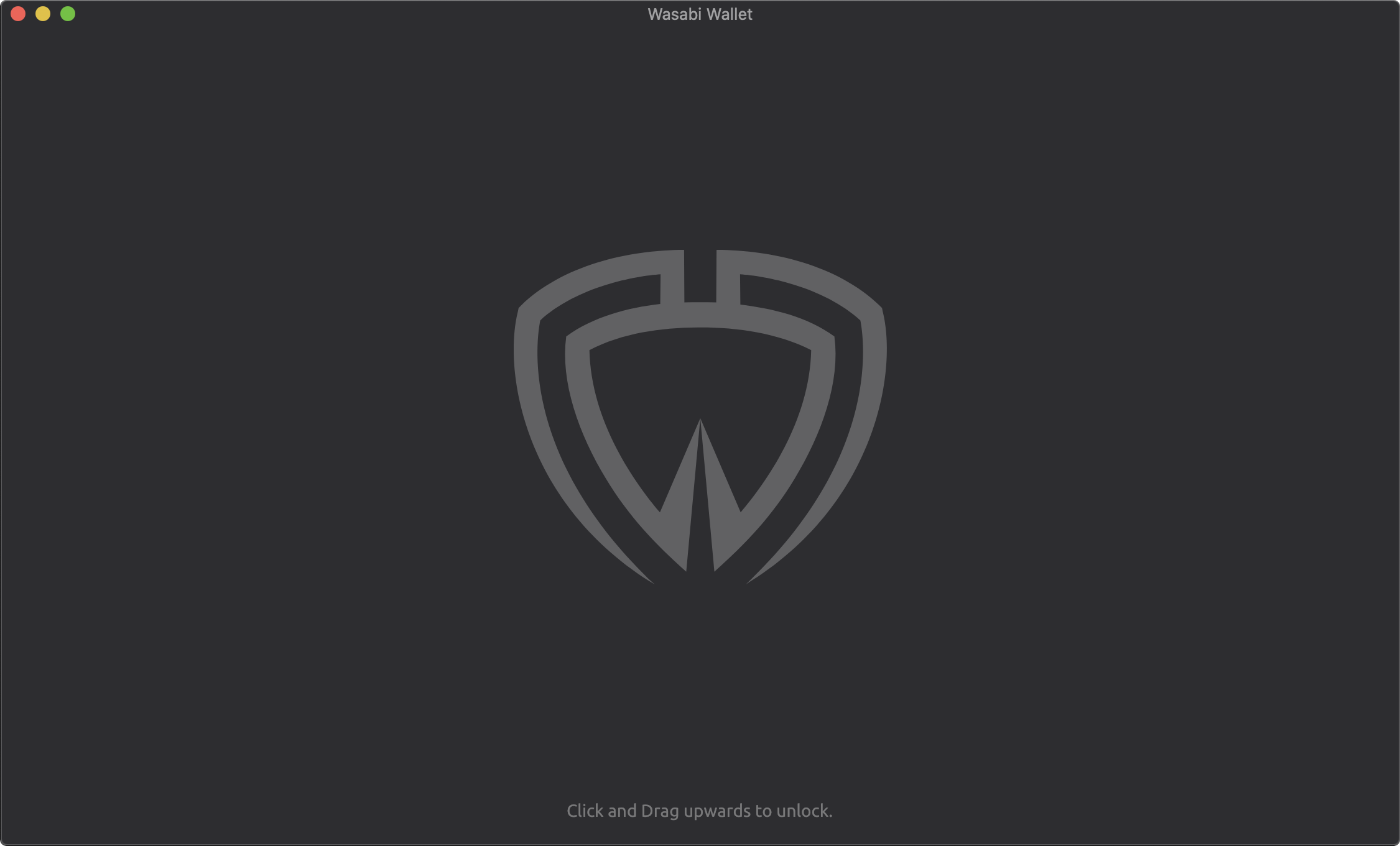 It hides all data and opens back with a swipe up, or by entering the PIN code, if you set it additionally (in the Tools> Settings> Lock Screen menu).
Tools> Settings> Bitcoin (Download Core client)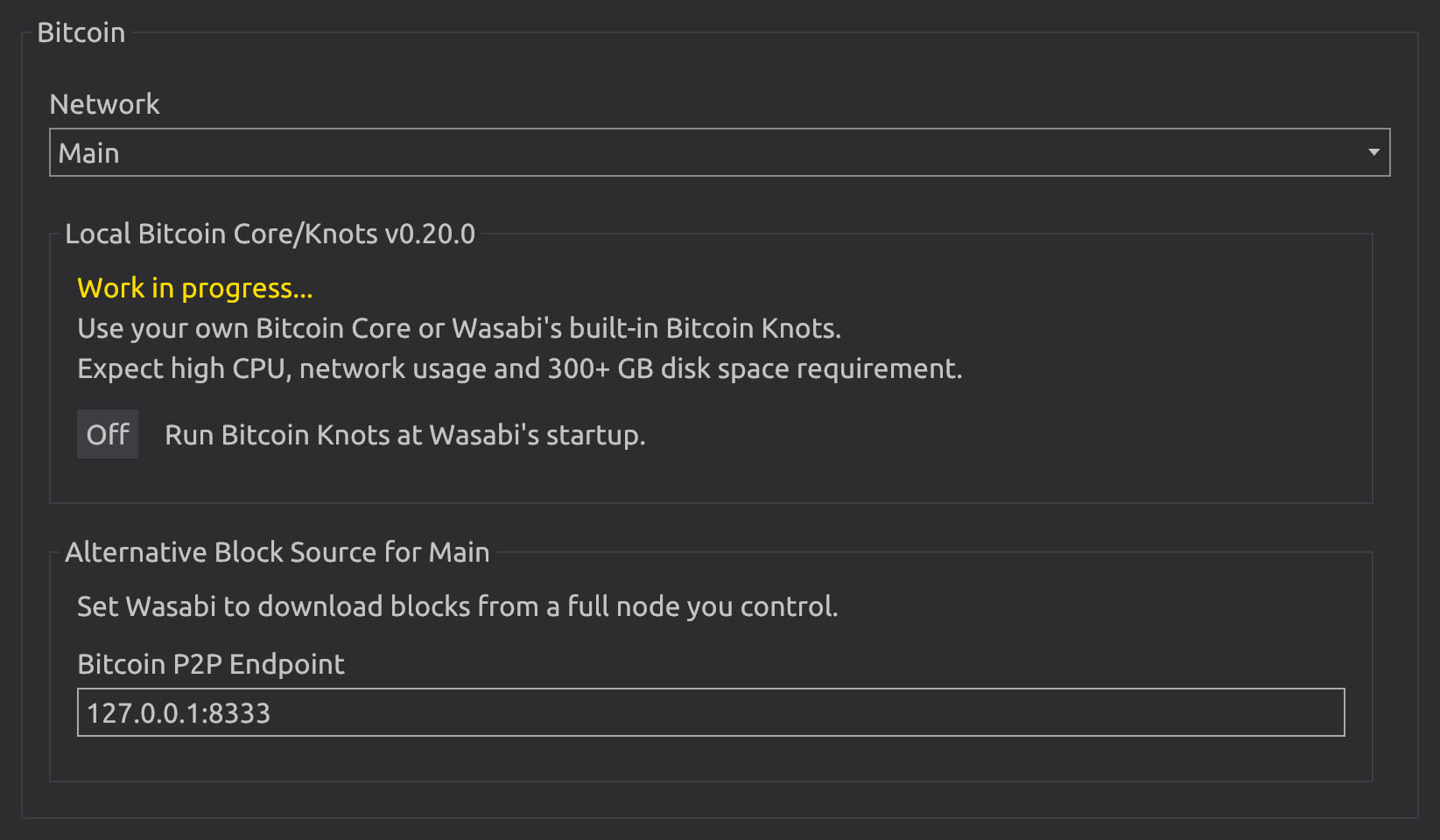 If you switch from "Off" to "On" with one click, the download of the entire blockchain will begin. This can increase the load on the CPU, the consumption of Internet traffic and will take up at least 300 GB of hard disk space.
Core provides Bitcoin Knots, but it is possible to download the entire node under your control by entering Bitcoin P2P Endpoint IP.
Tools> Settings> Anonymity Levels



The standard is set to a satisfactory level. Can be adjusted numerically.
Tools> Settings> Other Settings> Dust Threshold
The default is 0.00005 BTC. This amount is charged as an additional commission and participates in the CoinJoin process. The higher it is, the better.
the coinjo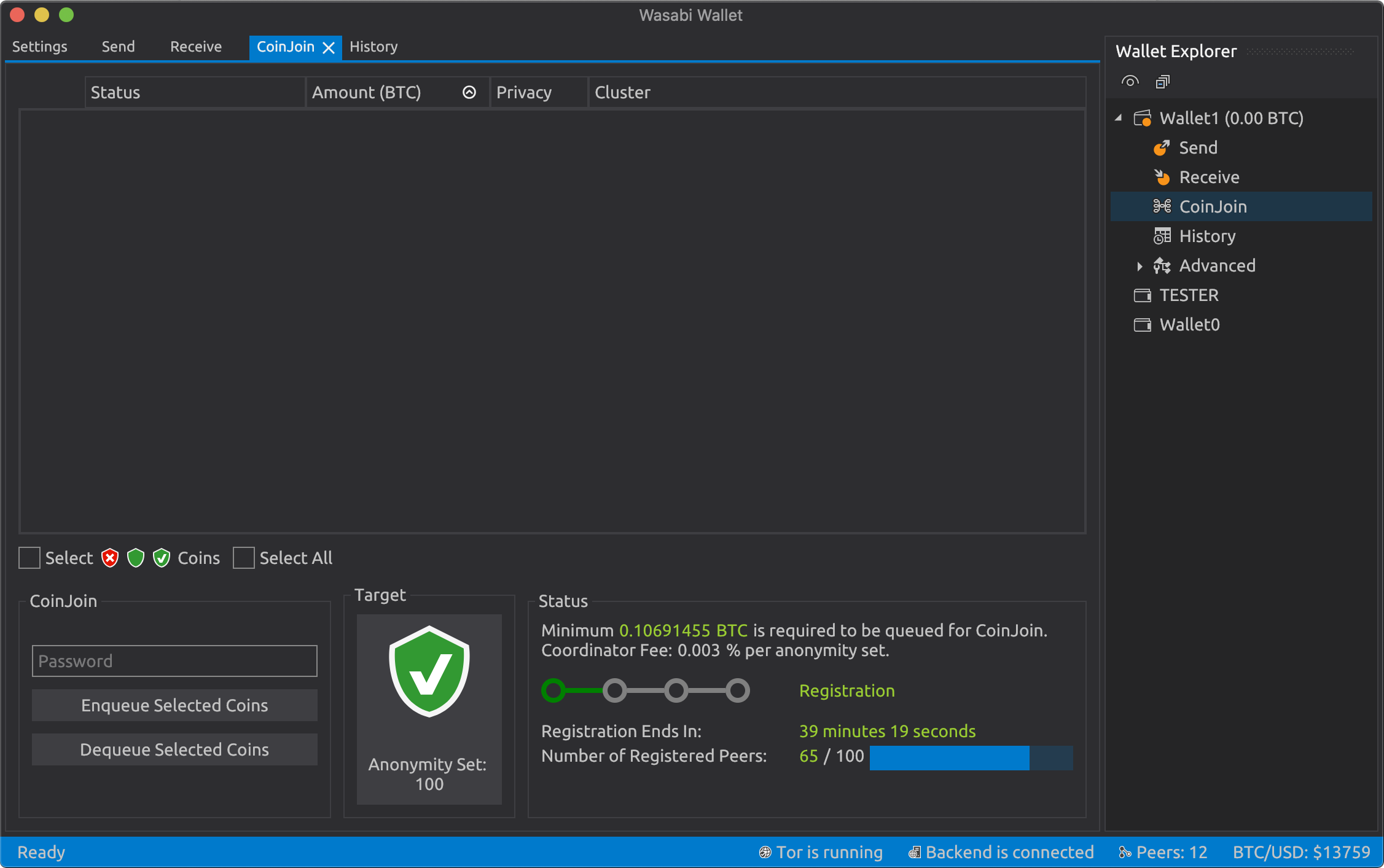 Connecting a transaction to a mixing pool for increased security.
Support
It is possible to submit a report (Issue) to GitHub. Or write your problem in the comments, for Wasabi wallet support in Russian.
Conclusion
Wasabi Wallet is not just an anonymous wallet, of which there are quite a few now. To create it, the code was written almost from scratch, a large number of new functions were added (blockchain synchronization, Tor support by default). Data leakage is virtually impossible here, so the wallet is considered the best option for everyone who cares about anonymity.